Wedding Hair & Makeup Services In Downtown Milwaukee
IT'S THE DAY YOU'VE BOTH BEEN WAITING FOR!
We know anticipation is high. Don't stress, you're at the right place. We're ready to provide the both of you everything you need to help you have the wedding day of your dreams. With our high-end product and menu, our hybrid salon at Di Carlo Salon & Barbershop offers an array of wedding hair and makeup services – from gorgeous hair and glowing makeup to impeccable men's grooming. Take a deep breath, and a glimpse into our offerings. Our wedding consultant is here to help you every step of the way.
BRIDAL HAIR & MAKEUP SERVICES
BRIDAL HAIR – $70
---
TRIAL UPDO – $80
---
TRIAL MAKEUP APPLICATION:
---
TRADITIONAL MAKEUP APPLICATION – $55
---
AIRBRUSH MAKEUP APPLICATION – $75
---
GUEST MAKEUP APPLICATION:
---
UPDO – $55
---
PARTIAL UPDO – $40
---
SHAMPOO & BLOW DRY – $50
---
SHAMPOO, BLOW DRY & THERMAL STYLING – $60
---
THERMAL SET – $40
---
INDIVIDUAL LASH APPLICATION – $30
---
STRIP EYELASH APPLICATION – $20+
---
SPECIALTY SERVICES:
---
GROOM & GROOMSMEN'S SERVICES
MEN'S HAIRCUT PACKAGE – $20+
---
MEN'S DETAIL PACKAGE – $30+
---
CLEAN SHAVE – $30
---
BAXTER FULL FACIAL FOR MEN – $20
---
Wedding services are not bookable online. Please call to schedule your complimentary consultation with our wedding coordinator at (414) 765-1985 or email [email protected].
I am a regular customer and could not imagine going anywhere else.  All the staff are so knowledgeable and accommodating.  I have to give a shout out to [the stylist] who did my hair and makeup.  She was great at my trial adjusting things until I felt comfortable.  The day of I had nothing to worry about.  She looked at the pictures from the trial and duplicated everything perfectly!  All the other girls were extremely pleased with their hair and makeup as well.  Not a hair out of place all night!…
Thank you and you team for showing my groomsmen a great time. All my boys were raving about the old school shave, most of them had never experienced that. My wife appreciated the under eye treatment and facial services as well (late night the day before the wedding). My whole group looked and felt great at the wedding and I thank you for that.
I can't begin to thank you and your staff enough for my beautiful wedding hair. Your whole staff is very talented, kind, fun, organized and most importantly reliable. Your staff went over and beyond to make my day great. I am very particular about my hair and I had a very specific idea of the style I wanted and you guys delivered. I was absolutely thrilled and I had so many compliments from my guests and friends.  All five of my bridesmaids looked beautiful as well.
FREQUENTLY ASKED QUESTIONS:
WHAT SHOULD I DO TO PREPARE FOR MY CONSULTATION?
---
HOW FAR IN ADVANCE CAN I BOOK MY HAIR &/OR MAKEUP TRIAL?
---
WHAT IF I DON'T WANT A CONSULTATION FOR MY HAIR OR MAKEUP?
---
DO YOU TRAVEL TO ME FOR MAKEUP AND HAIR SERVICES?
---
HOW DO I SECURE MY SERVICE AND HOW EARLY SHOULD I BOOK?
---
WHAT SHOULD I DO TO PREPARE FOR MY WEDDING DAY APPOINTMENT?
---
HOW LONG DOES IT TAKE TO FINISH EVERYONE ON MY WEDDING DAY?
---
CAN I BRING A PHOTOGRAPHER?
---
CAN I BRING IN MY OWN FOOD?
---
CAN I HAVE EXTENSIONS ORDERED OR DO I NEED TO BRING THEM IN?
---
WHEN DO I PAY THE FULL AMOUNT FOR MY SERVICES?
---
Our Bridal Consultant will walk you through any other questions you may have. Call us at (414) 765-1985 to book a Bridal Consultation.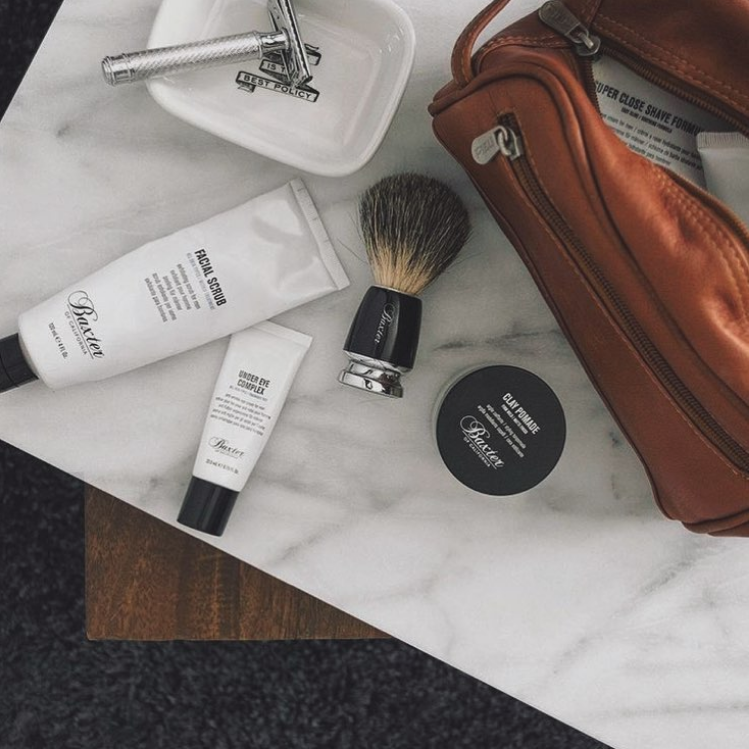 Face wash
Moisturizer
Shave formula
Aftershave balm
Daily protein shampoo
Canvas travel bag with an extra zip pocket inside
Straight Razor Shaving Kit – $60
Styptic Pencil
Scalpmaster Boar/Badger Mix Brush
Williams Soap Mug
Lucky Tiger Aftershave and Face Tonic
Dorco Blades
Diane Straight Razor
Traditional Razor Shaving Kit – $95
Styptic Pencil
Williams Mug Soap
Lucky Tiger Aftershave and Face Tonic
Dorco Blades
Chrome Shaving Set (includes brush, safety razor, and stand)
*Men's Grooming Kits can be broken up and individual items sold separately
*To ensure Groomsmen Gifts are in stock please place your order 4 weeks in advance.
SUGGESTED SERVICES TIMELINE:
Schedule your Bridal Consultation
Trials– Updo and Makeup
Book the Groomsmen Services with the following:
– Number of groomsmen
– Services you would like performed
– Time and date of service (try to book Groomsmen before or after Bridal Party Services)
Extensions Consultation
Microblading
Eyelash Extensions
Order your groomsmen's gifts with us in advance or order at the time of pre-wedding services.
Choose from our large selection of gift ideas (we will have them ready when you come in for the groomsmen services)
Choose from our full menu of salon services
Women's Deep Conditioning Treatment
Bond Strengthening Treatment
Brow/Lip/chin waxing
Specialty Services:
– Extension Application
– Eyelash Extension
– Microblading
– Brazilian Blowout Smoothing Treatment
Bridal Party Updos, styling, and makeup
Eyelash Extensions Fill (if needed)
Extension Readjustment (if needed)
Send your boys down the aisle looking their best!
Men's Haircut Package
Men's Detail Package
Clean Shave
Baxter Full Facial for Men
CONTACT
OUR BRIDAL CONSULTANT: