Mon 9-5pm, Tues-Fri 9-8pm, Sat 9-4pm
BRAZILIAN BLOWOUT SMOOTHING TREATMENTS
Brazilian Blowout Hair Smoothing Treatment in Downtown Milwaukee
Life's busy, and you put in a lot of hard work—and so does your hair. From heat styling to ponytails to sun, wind, and humidity, your hair works overtime. Give your hair the promotion it deserves: a hydrating, strengthening, and smoothing Brazilian Blowout for a lush, frizz-free look.
Formulated from natural ingredients like camu camu, annatto seed and açai berry, our liquid keratin smoothing treatment seals the cuticle and forms a protective layer around each strand. You're left with intensely glossy tresses that are more manageable and resilient. And unlike other smoothing treatments, you're not stuck with a days-long waiting period before getting your hair wet. You may even find your blow-drying time cut in half—if you even need to blow-dry at all: air-dryed hair is just as flexible and shiny. (Now that's a lighter workload.)
WHAT MAKES OUR SMOOTHING TREATMENT DIFFERENT?
TREATMENT IS CUSTOMIZABLE – Keep your curls and lose the frizz, or go for the smoothest result possible.
NO DOWNTIME – After treatment, you can immediately wash your hair, put it in a ponytail or head to the gym—there's no waiting!
GREAT FOR ALL HAIR TYPES – Curly, kinky, coily, frizzy, fine, damaged or coarse: Your hair can be smoothed.
NO CHANGE TO CURL PATTERN – After about 12 weeks, your natural curl pattern returns.
NO LINE OF DEMARCATION WITH NEW HAIR GROWTH – Our smoothing treatments are great for transitioning from Japanese straighteners, relaxers or other keratin treatments.
TREATMENT IS FINISHED AT OUR DOWNTOWN MILWAUKEE SALON – After about 90 minutes, you'll leave the salon with smooth, frizz-free hair for up to 12 weeks.
WITH OUR BRAZILIAN BLOWOUT SMOOTHING TREATMENT, HAIR IS HASSLE-FREE
This service gives you smooth, frizz-free, easy-to-manage hair that can be customized to fit your lifestyle. Whether you prefer sleek and straight hair, or curls minus the frizz, you can get your ideal look for up to 12 weeks. Busy lives need effortless, beautiful hair, and our smoothing treatments provide the perfect remedy.
BRAZILIAN BLOWOUT SMOOTHING TREATMENTS

---
Sometimes life's more than a little busy, and it might seem next to impossible to indulge in a luxury like a Brazilian Blowout. But what if we could offer the same hydrating, strengthening and smoothing benefits of a blowout treatment
and
add an hour back to your day? Cross our hearts, the Brazilian Blowout Express is a one-hour, in-salon service that leaves you with a lush, frizz-free look for up to 6 weeks—and it only takes half the time of our full blowout treatment!
For a hairstyle that's shiny, flexible and healthy, we recommend complementing your express Brazilian Blowout with a color and cut.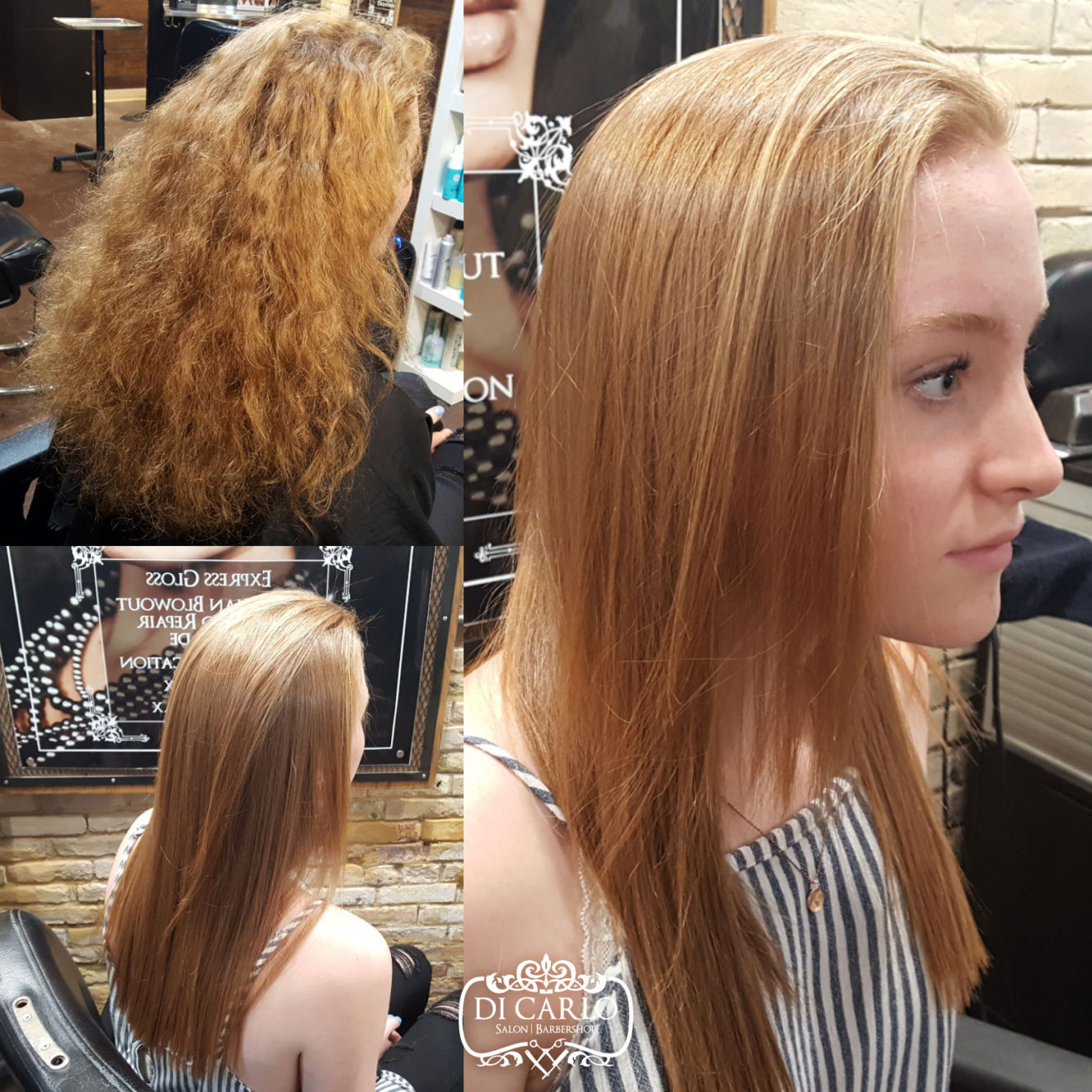 FREQUENTLY ASKED QUESTIONS
HOW DOES THIS SMOOTHING TREATMENT WORK?
---
WILL MY SMOOTHING TREATMENT LEAVE MY HAIR LIMP AND UNABLE TO CURL?
---
IS IT SAFE?
---
CAN I WEAR MY HAIR CURLY AND STRAIGHT?
---
HOW LONG WILL IT LAST?
---
WHAT IF I HAVE DYED HAIR OR WANT TO DYE MY HAIR?
---
Have we left you with some unanswered questions? Call us at (414) 765-1985 anytime during business hours for more information or to book a consultation. 
During your smoothing treatment service, your stylist will perform the following:
Shampoo and towel-dry your hair
Apply the keratin treatment to your hair with an applicator brush
Blow-dry your hair, then straighten it using a flat iron
Rinse and towel-dry your hair
Apply a smoothing serum
Blow-dry your hair one final time
Our smoothing treatments can last up to 12 weeks if you follow our Aftercare instructions closely. There are many ways to prolong the life of your treatment at home. Your stylist will help you decide which aftercare products will work best for your hair type. The Acai Brazilian Blowout products ensure the longest-lasting results. If you avoid using shampoos that contain sulfates and chlorine, your treatment should last anywhere from three to four months. Beyond vigilance about ingredients, it's good to keep in mind that the less you wash your hair post-treatment, the longer its results will last.
CONSENT & AFTERCARE FORMS
CONSENT FORM
---
All menu prices and services are subject to change without notice. Our pricing and timing estimates may vary based on stylist's training level, education, and experience, as well as customers' hair length and condition.